Packaging
Earthy Gut promises to work in Harmony with the environment.
From our ingredients to packaging, we have everything compostable, biodegradable and GONE from the surface of EARTH!!!
Glass Jars
Contains
Glass Body
Rubber Seal
Stainless Steel Locking System
End Of Life
Glass Jars are cleaned, sorted, crushed and used to make new Jars, bottles and Fiberglass products.
Rubber seals are recycled into new rubber products
Stainless Steel is recycled too!
Hence, reducing the Carbon Foot-print on the planet.
★ ★ ★ ★ ★
Thank you for your Vegan treats, delicious!!!!!
Cheryl Z
★ ★ ★ ★ ★
Amazing is all I can say! These cupcake jars are such a great idea and last for a few days, not that mine did! 
Helena C
★ ★ ★ ★ ★
SO GOOD! I don't usually like icing but this icing is unreal. You neeeed to try this😍 and perfect as a little birthday gift treat!
Silvina R
★ ★ ★ ★ ★
Tastes so creamy and good. better than the pic
Cindy M
★ ★ ★ ★ ★
this tastes so good
Sam
★ ★ ★ ★ ★
the best texture, and so good
Vic
★ ★ ★ ★ ★
Like a magical macaroon/cake/frosting in a jar-- seriously my favorite thing among every incredible thing this wonderful bakery offers.
Vivia K
★ ★ ★ ★ ★
So yummy and came on time!
Rosa B
★ ★ ★ ★ ★
Absolutely phenomenal! Can't wait to order again
Michelle A 
★ ★ ★ ★ ★
Nice treats, great variety, and friendly service.
Gloria
Custom Logo Cupcakes
Minimum 12 cupcakes
Available in Original, Vegan, Gluten-free vegan
Cupcakes can be
- Assorted Flavors
- Assorted Colors
- Chocolate lover / Vanilla Sprinkle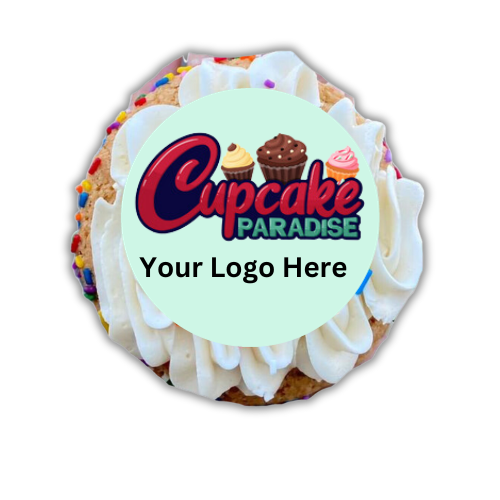 Custom Logo Cookies
Minimum 12
Available in Original, Vegan and Gluten-free vegan
- Assorted Flavors
- Assorted Colors